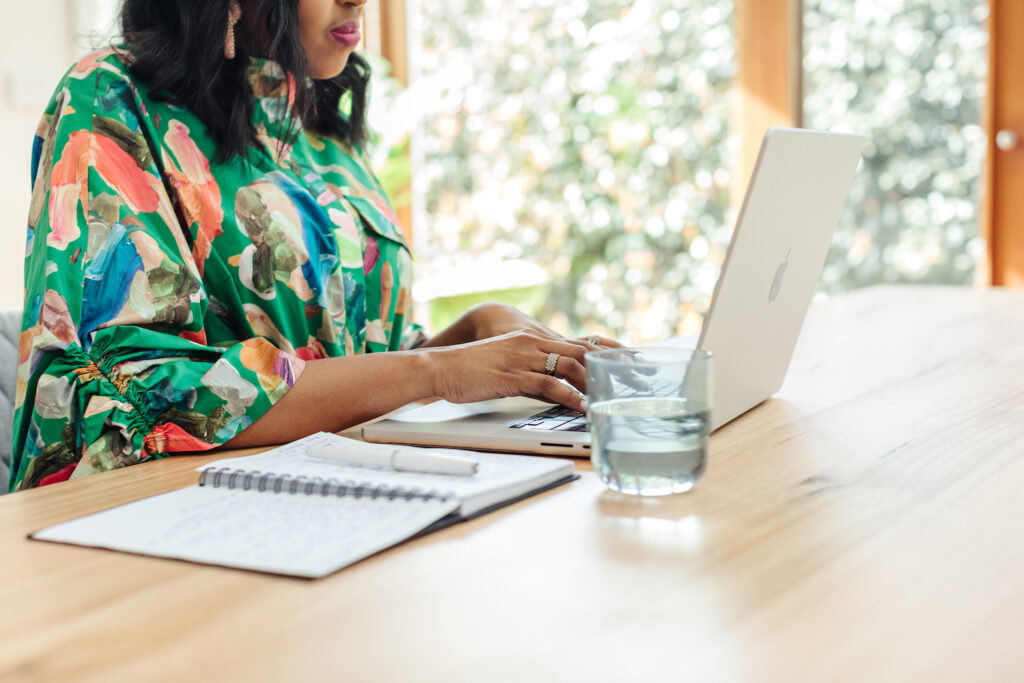 I host a number of masterclasses for group programs and when I get to the end of my delivery and ask for questions, how not to be performative is almost always asked. I appreciate the desire to want to learn but the underlying question most of the time is, "how do I not offend?" Do you have a checklist of all the things that are offensive that I could download?" The answer is no I don't have a checklist that you can keep as a security blanket so you don't get into "trouble".
The truth is at the core of this question I've come to learn is a lack of knowledge when it comes to what it actually means to be a genuine ally in the work of racial equity. Approaching this work from a lens of 'what do I need to know' so that I don't offend or make a mistake is an issue in and of itself.
Think about it from this perspective for a moment. When you start your online business and you are looking to attract paying clients, your first point of call is not to learn about what not to do so as not to offer a bad experience. Your first area of concern is learning about their pain points, what their struggles are and how you are best placed to provide a solution for them to support them. Your focus is on your potential clients and you are driven with a desire of how you can deliver great value to them to ease their pain using your area of expertise.
In the same way when it comes to racial equity work, it starts by building genuine relationships with people of colour so you can understand their pain points, the history of exclusion and oppression that exists and the role you might have played in aiding these systems of supremacy. There's no short-cut to doing this work i.e. a checklist you can keep with you to keep you in check. That checklist is actually meaningless if you are not doing the work and in fact contributes to being performative.
You want to learn how not to offend and not to come across as being performative? It's not complex, but it requires your commitment. It's about doing the work to educate yourself on an ongoing basis. Especially as an online business owner who is looking to impact lives and grow into serving more diverse clients, racial equity work is not something you can by-pass. It's also not work you can do in isolation whereby you are reading a book or listening to a podcast. Those are great resources to open up your perspective but what happens when you have questions? Like the question which has activated this email. Who do you turn to? Growth happens when we can converse with one another and take the time to self-reflect.
That's why being in community and having hand-picked curated content to take you from where you are to the next level in your learning with a coach who is trained to support you will make a massive difference to your journey.
It's the reason I created my signature program REPRESENTED so that we can have a dedicated space that is a judgement free zone, allowing you to come as you are to learn, ask questions and take practical steps to grow a racially inclusive and equitable business. I am fiercely protective of my students. The space I provide allows them to bring their vulnerability and I bring mine too so that trust is developed and is the foundation from which we journey together, unpacking uncomfortable yet necessary work to our humanity.
This work is not going away if anything, it will continue to become an essential part of how we do business. It will become a greater requirement from potential clients wanting to be in business with service providers who are invested in racial equity.
For a limited time until the end of June, I'm offering $200 off REPRESENTED as my EOFY special including LIFE-TIME ACCESS.
Find out all about REPRESENTED and sign up at this discounted price.
And when you join before 30 June you will get access to 3 AMAZING BONUSES:
🔥 The opportunity to have me as a guest speaker for a 60 minute masterclass for your mastermind, group coaching program, circle or event. (value $1497) – available to the first 5 people before the cart opens to the public.

🔥 3 hour Inclusion Statement Workshop (value $197) – In this workshop, learn how to create an authentic, race and inclusion-focused DEI statement that shares your commitment to this work with everyone who is thinking about working with you. It's an absolute MUST for business owners seeking to work with people of colour.

🔥 Cultural Appropriation and Digital Blackface Workshop (value $97) In the tech era we are living in it's never been more imperative to understand appropriation and how it could impact your brand as you create content using reels, TikTok and ChatGPT.
TOTAL VALUE: $1,791
Access all these bonuses for just $1297 or 6 monthly payments of $265.
With Love,
Annie